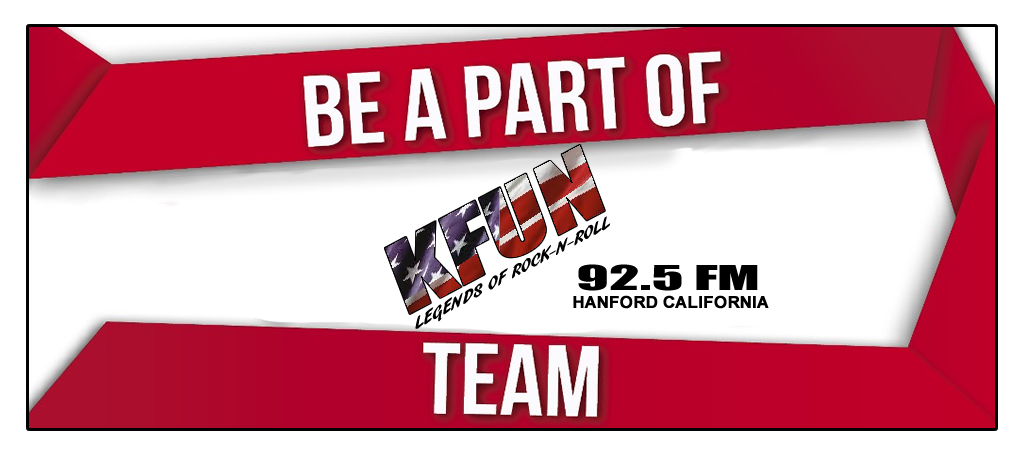 ARE YOU OUR NEXT GREAT STAFF MEMBER ?
KFUN Radio is now seeking high energy people with a professional mindset in the Radio Broadcast industry. Your invited to contact us regarding a number of open positions we have or will have open in the very near future, so act now and become apart of a great Broadcasting Team.
Positions Now Available: Now Accepting Applications
SEEKING QUALIFIED CANDIDATE
High Commission Radio Sales Position
MAKE WHAT YOU ARE WORTH, AND MORE.
Qualified Candidates Must Posses:
• B2B Outside Sales Experience
• An energetic, outgoing personality. . . A PEOPLE PERSON
• Driven by the desire to earn a HIGH INCOME
• Reliable transportation and Clean Drivers license
• Bi lingual a plus but not necessary.
We will offer the right candidates:
• A great opportunity for COMMISSION & BONUSES
• A Wide Endlessly Open Market
• Trips & Incentives
• No nights or weekends
• A chance to work at a top rated FM Radio Station
• High Commission Sales Position
• Family Based Christian Work Place
• Advancement Opportunities
• Experienced Sale Agents can earn from $52k -$200k
SEEKING QUALIFIED LIVE RADIO PERSONALITY
LIVE Radio DJ Position : Salary Based Upon Level of Experience
Qualified Candidates Must Posses:
• Experience in Live Radio Broadcast
• An energetic, outgoing personality. . . "able to put together a positive broadcast show"
• Driven by high income, with a Family Safe Programming Experience
• Reliable transportation and Clean Drivers license and a good work ethic.
Sales Positions
KFUN
 is seeking professional positive sale people with three years of sale experience in high energy broadcasting radio spots, commercials and sponsorship underwriting spots.
Sales will consist of selling radio sponsorship spots under the FCC policies setforth as a Not for Profit Radio Station. KFUN has a wide open venue with very limited competition in our area. The sale person selected for this position will be required to visit businesses and promote and sell Radio Spots (commercials) on site broadcasting promotions and offer a vastly wide area of events promoted by KFUN.
Sales Person Salary: COMMISSION
Sales Positions are paid commission from each prepaid radio spot and or other form of promotions. Payroll is Scheduled Bi-Weekly for all Staff, commissions will be paid on all completed sales that are finalized within this pay period.
Live on Air Radio Personalities
KFUN is seeking people with 5 or more proven years of experience in broadcasting live on air performing a complete four hour day time show, must be able to put together a play list of music and set the shows programming limitations… Must have a great positive since of Humor.