JOIN VIKING DAVE FOR A SATURDAY NIGHT SHOW THAT EVERY REAL ROCKER WILL ENJOY ! 
HAIR BAND ROCK THAT WILL FOR SURE BE THE MOST AWESOME NIGHT OF PURE ROCK FOR EVERYONE ENJOY ! 
Viking Dave is a native Californian, who has lived in Northern and Southern California to finally settle here in the Central Valley.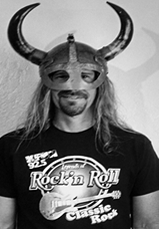 Viking Dave has been a music lover for as long as he can remember; attending his first major concert, Kiss, at 10 years old. He has gone to 100's and 100's of concerts over his lifetime, and is still rock'n hard. He has been very fortunate to go back stage and to hang out with some of the biggest names in Hard Rock and Heavy Metal.
Listening to the voices of Dr. Don Rose KFRC, Kevin Boom Boom Anderson KZAP & KRXQ, along with Jim Ladd KLOS, KNAC & KMET and Bob Coburn KMET & KLOS, The Voice of ROCKLINE!, has given Viking Dave the lifelong dream of becoming a Radio DJ. Sharing music is one of Viking Dave favorite things to do and having a live radio segment on a classic rock station is a dream come true.
If you love rock music from the late 60's, 70's & the 80's  come explore the world of classic rock with the Viking Dave show Saturdays 2-6pm, for the best mix of music and rock knowledge KFUN has to offer.